November 25th, 2011
The 8th Annual San Diego Bay Wine & Food Festival attracted more than 9,000 epicurean enthusiasts from around the world, including culinary personalities, cookbook authors and celebrity chefs, to enjoy a gourmet showcase of food, wine and spirits in America's Finest City.  SanDiegoVille.com had the amazing opportunity to cover some of the events, so join us as we take a tour through Southern California's premier lifestyle celebration of fine dining at its best.
Produced by the World of Wine Events, the festival was not just about indulging in the best of the best, but also focused on assisting a fine cause.  Through its wine and food tastings, seminars, silent auction, dinners, live entertainment, and of course the Grand Tasting event, nearly $180,000 was raised to go towards scholarships for the
American Institute of Wine and Food
.
In attendance at this year's Wine & Food Festival were over 170 world-class winemakers, as well as 70 of San Diego's top chefs and many other food purveyors. Held all around San Diego from Nov. 16-20th, the five-day festival featured wine-tasting seminars, cooking classes taught by celebrity chefs, a WineRave at Eden night club, the elegant Reserve & New Release Tasting, and so much more.
WineRave was a popular event!
The festival kicked off on November 16th with the WineRave, an evening hosted at one of San Diego's most happening night clubs, Eden in Hillcrest. This event featured dozens of wine and spirit producers, all vying for the attention of the packed house. Although the event featured a very nice fruit, cheese and cracker spread, as well as tray passed appetizers, it was certainly a spirit-centric outing.  Offered around the event were mixed drinks, liquors, beers by Stella, and more wine than you could imagine.  For the $45 price of admission, participants surely got more than they anticipated.  The WineRave was the perfect appertif to an amazing week of eating and imbibing.
Chef Joly doing his thing!
Next, SanDiegoVille.com had the opportunity to get a bit of a culinary education with a couple interesting and enticing classes.  For starters, we learned, amongst other things,  how to make the perfect butternut squash risotto from Master Italian Chef Suzette Gresham-Tognetti at the hour long Italian Master Class on Friday, November 19th at the San Diego Wine & Culinary Center.  
Gresham-Tognetti is a co-owner of
Acquerello
in San Francisco and has been cooking Italian food for most of her career.  In preparing her main dish, she added a combination of squash puree and diced squash to the risotto. To accent the dish, she included a variety of other ingredients including olive oil, butter, onion, garlic, nutmeg, parmesan grating cheese and white wine. Served over pancetta, and accompanied by a lovely Tuscan Sangiovese Castello d' Abola Le Ellere 2006 to wash it down, this was a very simple, yet elegant preparation and pairing that I will certainly attempt to recreate.
SanDiegoVille Founders!!!
Directly after the Italian Master Class, we attended the hour long Belgian Beer Tasting & Pairing sponsored by
Stella Artois
 and led by the personable Chef Daniel Joly of
Mirabelle Restaurant at the Beaver Creek Resort
in Colorado.  Along with a packed room of beer enthusiasts, we were introduced to a unique blend of Belgian old world classics and contemporary style beers along with hand made bites.  Chef Joly prepared perfectly designed dishes and international cheeses that were paired with three flavorful Belgian beers: Stella Artois, Hoegaarden and Leffe. During the class, we learned the artistry behind Belgian Beer Production and its perfect accompaniment with cuisine and cheeses from around the world.  We must agree with Chef Jolie - beer makes just as good an accompaniment to food as wine does.
Another not-to-miss event at the festival was the Friday night Reserve and New Release Tasting and Silent Auction, this year held at the
Air and Space Museum
in San Diego's Balboa Park on November 18th. The venue was the perfect place to taste top quality wines, spirits and limited food samplings. An exclusive and elegant evening for collectors of fine wine, the Reserve & New Release Tasting set the stage for wine enthusiasts to taste the pride of the vine from 150 wineries and spirits producers, all in a stellar setting. While guests were able to enjoy cuisine from local food companies, like the WineRave, this was certainly more of a spirits event.  There was an exciting silent auction with items such as large format bottles, libraries, and decanters, with proceeds benefiting the American Institute of Wine & Food culinary and enology arts scholarship program.  Guests also had the opportunity to be photographed by
Sinsay Fitography
, who scoured the event for "photo ops" and set up a photo trigger by the jet (see our picture).
The grand finale to the sizzling five-day festival was the elegant, sold out Grand Tasting Event held on November 19th on the Embarcadero Park North behind Seaport Village. We felt so fortunate to be able to take in the beautiful San Diego Bay and enjoy the refreshing ocean breezes as we partook in what is surely the largest, most talked about wine and culinary festival in Southern California. San Diego star chefs showed off their culinary artistry, while gourmet food companies wowed participants with their scrumptious fare, and over 100 domestic and international winemakers and spirit producers poured some of the most renowned wines and spirits on the market today.  There was live entertainment to keep the rhythm as patrons enjoyed samplings from local eateries such as Harney Sushi, The Oceanaire Seafood Room, Blue Point Coastal Cuisine, The Grant Grill, BICE, Roy's, NOBU, Humphrey's, El Vitral and more. Premium Port Wines were being offered from the likes of Niner Wine Estates, L'Aventure Winery, Zonin USA, Bodegas M, Anderson's Conn Valley Vineyards, Anglim Winery, Cornerstone Cellars, Ferrari-Carano, Hess Collection Winery, King Frosch, Opolo Vineyards, Spring Mountain Vineyard and more.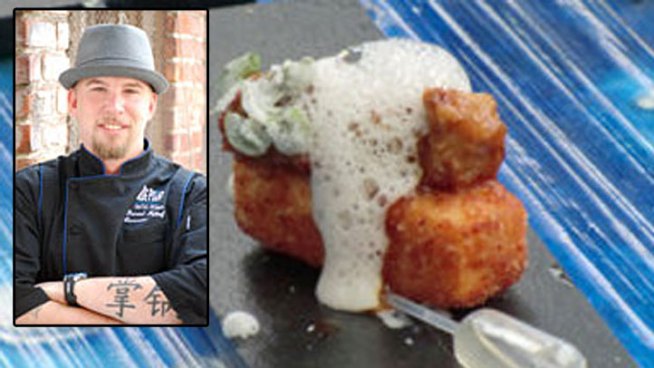 Chef Daniel Barron and his offering
The "Chef of the Fest" competition was an action-packed culinary showdown where chefs were judged by a panel of local and national celebrity chefs, authors and members of the food and wine media. Through a tiered judging process, Chef Daniel Barron of Blue Point Coastal Cuisine earned bragging rights and a bountiful $50,000 prize package as "Chef of the Fest' for the 2011 San Diego Bay Wine & Food Festival.  Barron's winning dish at the annual event was Crispy Laughing Bird Shrimp with curry-glazed sous vide pork belly, cauliflower polenta, and roasted ginger and kaffir lime air.
The San Diego Bay Wine and Food Festival gets bigger and better each year and we cannot wait to see what is in store for next year, as the festival improves annually like a fine wine.  Stay informed by visiting the
event's website
, and be sure to follow the Festival on
Facebook
and
Twitter
.  For a visual of what you missed at this year's festival, check out the video below.