February 12, 2012
"Buffalo Wings" have historically been known as an East coast food-staple, but in Pacific Beach, one restaurant makes the spicy chicken wings feel as So-Cal as fish tacos.  For those that don't know about
Dirty Birds
, let me introduce San Diego's "King of Chicken Wings."
Dirty Birds is a bar/restaurant located only a block from the ocean at 4656 Mission Boulevard in Pacific Beach. Although the interior is on the smaller side, they make the most of their space by offering ample seating and an open-air feel. The walls are decorated with football and surfing memorabilia and inundated with flat screen televisions, making it an excellent choice for a place to throw down some beers and bar food and root for the home team.   Dirty Birds even offers their clientele a wide variety of board games to enjoy.  Although Dirty Birds has an extensive food menu and newly-obtained liquor license, most customers venture to DB's for their happy hour specials and phenomenal chicken wings.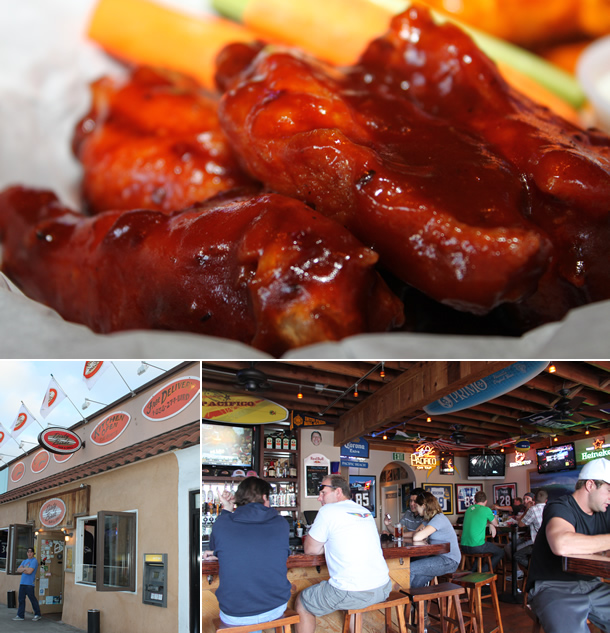 From 3 to 6 pm during the weekdays, and all day Tuesday, wing orders and domestic, non-micro brew pitchers are half-priced.  If you can't make it in the afternoon, Dirty Birds offers nightly specials, such as their $13.99 all-you-can-eat wing night on Mondays, and $8 for all pitchers on Thursday nights after 8 pm.  To continue their trend of never-ending specials, Dirty Bird's also provides daily lunch specials and weekend happy hour bargains. 
The "bird is the word" at Dirty Birds, as their chicken wings come in an astounding 22 flavors and counting (along with daily specials and secret off-the-menu flavors like Peanut Butter & Jelly), each flavor more unique and delicious than the last. Some of the favorites are Garlic Parmesan, a dry wing covered in garlic, parmesan, butter and parsley; Flaming Honey Mustard, a wing tossed in a honey mustard/buffalo sauce combination; and General Bird, their take on the Chinese General Tso's sauce - very spicy.  
After trying each flavor, it's nearly impossible not to rave about any of them, and many may venture to say that their wings are the best in San Diego.  In my personal opinion, as a self-proclaimed "Wing King," Dirty Birds chicken wings rival any of the best wings in the country (especially if ordered extra crispy subbing blue cheese instead of ranch in the spirit of a true East-coaster).
Dirty Birds has not gone unnoticed by locals and food critics.  They were the gold medal winner of Beach and Bay Press' "Best Wings" category and a finalist for the Union Tribune's "San Diego's Best Chicken Wings" in both 2010 and 2011.  Dirty Birds recently received national acclaim by being listed tenth on TheDailyMeal.com's listing of America's Best Buffalo Wings. 
If amazing wings and affordable drinks aren't tantalizing enough, Dirty Birds offers something genuinely unprecedented: they'll prepare beer shotguns for any of their canned beers using a patented "shotgun keychain." There is something magnificent about sitting next to people popping the top of a beer and chugging down the whole thing in under 10 seconds from a perfect hole in the bottom of the can. Cheers to you Dirty Birds.
So next time you're in Pacific Beach, catch happy hour, enjoy some amazing wings and shotgun a beer at Dirty Birds. 
4656 Mission Blvd., Pacific Beach. 
Sunday - Wednesday 11 am to midnight
Thursday to Saturday 11am to 2am.