April 17, 2012
Embarking on an adventure up the ineffably picturesque California coast from San Diego to the Monterey Peninsula was merely the tip on the iceberg of decadent pleasure and visual stimuli that this past weekend presented. The journey culminated in a weekend filled with celebrity chefs, exquisite tastes, wines from around the world, and was marked by over-indulgence, with the renowned Pebble Beach as a fittingly luxurious background for the events of the
5th Annual Pebble Beach Food & Wine festival
.
Walking the grounds of Pebble Beach (based upon its highfalutin reputation), I expected glitz and glam and pretentiousness, but was met graciously with attendees as excited as I, and the surprisingly casual and laid back attitudes I have grown so used to living in San Diego. My favorite aspect of PBF&W was that the chefs plate and serve their own dishes and were eager to answer questions, chat, entertain, and obliged to each and every oh-so-annoying photo-op….and advantage I did take!
I thoroughly enjoyed each and every one of my celebrity chef encounters like a little kid in Disneyland, and (aside from Mr. Guy Fieri who attempted a quick unnoticed appearance – despite his gaudy extravagance) each was more delightfully gracious than the next. We hobnobbed with some recent celeb-status chefs including Anne Burrell, Iron Chef Geoffrey Zakarian, Elizabeth Falkner, Fabio Viviani, Chris Cosentino, and Casey Thompson (how cool is that chick?), as well as some of the more "established" Chefs, Tyler Florence and Thomas Keller, all whilst tasting their proud presentations of food.
Below are some highlights of the weekends events:
Lexus Grand Tasting:
This two-day event is basically the smorgasbord of the weekend where the entire equestrian area crowds with people under huge white tents to eat and imbibe to heart's desire, then beyond. I noticed a theme - pork, pork, everywhere! Everyone seemed to be serving some version of pork – one of the few foods I usually try to avoid. Pork ears, pork shoulder, pork ribs, pork belly, pork meatballs! But, being a foodie and a reporter, I threw my inhibitions to the wind, and indulge I did. Pork aside, here are some of my personal highlights from the Lexus Grand Tastings:
I'm not usually one for sweets, and if I do indulge, I rarely go back for more, but Pastry Chef Ben Spungin's beautiful little macaroons stole my heart and my soul with those crisp yet so pillow-y creations. Next time I'm up in Carmel Valley, straight to the Bernardus Lodge I will go, in search of more of his intricate delicacies. Heavenly!
After walking up and down the Fisherman's Wharf in Monterey, I thought I had tasted the best (and worst) of clam chowders the city had to offer – then I tasted Hawaiian Chef Sam Choy's clam chowder with spinach – a sweet and savory, creamy deliciousness – a cup of which I had two, despite my exploding stomach. His salmon slider was nothing to scoff at either -- E ʻai kākou!
Chef Craig von Foerster is probably lucky that he wasn't at his table when I tasted his stick-wrapped Wagyu beef Carpaccio, because I probably would have kidnapped him and taken him home to San Diego. Kudos to simple perfection, Chef, kudos.
While Chef Casey Thompson's fried chicken livers (not a fan of that protein) didn't really do it for me, her fresh squeezed blood orange margarita, poured through an ice luge, coupled with her cheerful bubbly-ness and the fact that she was LOVING life pouring those drinks, made me a huge fan.
And I must acknowledge another personal favorite, Belgian-born Master Chef Daniel Joly who not only served up tasty cheese and bacon tastes, but who never fails to win my heart with beer. Joly, an ambassador for Belgian beers Stella Artois, Hoegaarden, and Leffe, is always a welcomed site at food and wine events when I get bored of wine and tired of the little siplets, and crave something refreshing and light. He taught me that beer goes better with cheese than wine – and I abide. Sante!
Of the multitudes of other events:
Caymus "Special Selection" and the Wagner Dynasty
I also had the good fortune of attending the Caymus "Special Selection" event which showcased the historic bottlings with owner Chuck Wagner leading the conversation on his special selection wines, accompanied by master sommeliers Chris Blanchard, and Jay James, as well as The Chronicle's wine editor Jon Bonne. A tasting of eight cabernet sauvignons, bottled from 1990 to 2009 demonstrated the breadth of the grapes and the effects of the ever-changing climate in northern California.
Tyler Florence: Ultimate Dining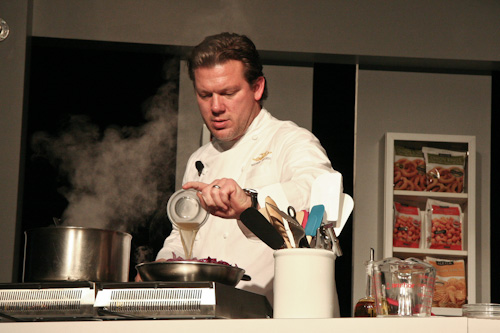 We all know and love Tyler Florence, a Food Network star of over fourteen years, super-celeb Chef, and a highly regarded culinary voice. He has the charisma and charm to lead a room of a hundred and something people to crave deep fried pig ear, in pork shoulder broth with poached egg – at 10 a.m. - and so he did. Tyler's cooking demo was served up with one of his latest endeavors, Tyler Florence Sauvignon Blanc. While the whole cooking demo seemed rather self-promotional (and it was) the ladies in the room didn't seem to mind...and the men all seemed to enjoy their pork.
Start making your travel plans soon, because PBF&W will only get more extraordinary in the coming years. There are dozens of events to choose from, allowing you to customize a package specific to your desires. You won't want to miss another one! See you next year! Cheers!