August 8, 2012
This fall San Diego's Downtown Gaslamp Quarter will welcome
The Commons
, a neighborhood bar true to its name – a common place for friends to gather.  The concept behind The Commons is simple, drawing inspiration from America's iconic bars and traditional watering holes centered on friendly service, offering simple but best-in-class bar fare and drink favorites in an approachable and laid-back environment.
Partners Jake Pescatello, a San Diego entrepreneur, and Leigh Gibson, Founder of
Dirty Birds in Pacific Beach
, which has seen vast success developing a cult like following and national recognition for its award-winning chicken wings, together bring over 20 years of industry experience.
"The Commons will be your go-to bar to relax, kick back and have fun," said partner Jake Pescatello. "We want our guests to feel welcome, whether they're looking for a place to sample San Diego's newest craft beer on tap, drop in for a quick lunch or just perch up on the patio. Life is tough enough; your local watering hole shouldn't be."
The Commons will be located on the corner of 4th Avenue and E Street, directly across from the Balboa Theatre and the new 60,000 square-foot
Horton Plaza Park
, which is scheduled to debut in December 2013. The park will become one of the city's largest gathering places and transform the identity of the core of the city. The Horton Plaza Park project is set to begin this fall at the north end of Horton Plaza where the former Robinsons-May building will be demolished to make way for the urban plaza. Upon completion, the park will be programmed by Westfield with more than 200 events annually for the next 25 years.
"Location is a key to success in the restaurant industry and we spent a lot of time doing our homework, so when this opportunity presented itself we were confident it was a situation where we were in the right place at the right time," said Pescatello. "Our vision is to create a concept for San Diego that has the ability to achieve landmark status.  We see The Commons as something that could have been in San Diego 20 years ago and something that will be able to keep its cool factor 20 years from now."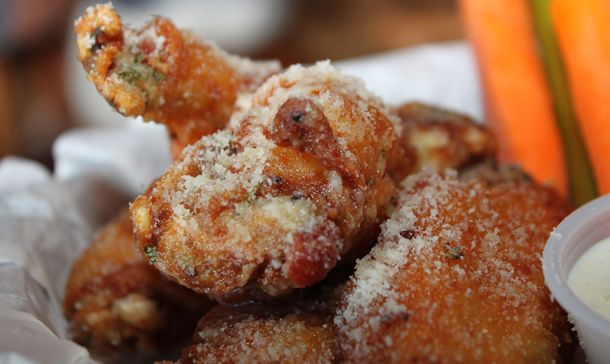 Sure to be a success with
Dirty Bird's wings!
Gibson and kitchen manager Adam Jacoby designed a menu that will "raise the bar on bar food." The Commons will serve classic American bar fare using the very best freshest ingredients whenever possible. From salads like the "Core District Salad" to "The Famous Chicken Wings," fried or grilled, to creative sandwiches like "The Not So Common Turkey Reuben," the menu will offer a variety of options for a hearty lunch or happy hour, and won't fall short on east coast classics. Late-night eats will include wings, as well as sausages with peppers and onions. Finally, a wide selection of local beers will be available on draft and in bottles for customers to try the newest limited editions in craft brewing.
Artist rendering of The Common's Interior
The Commons has teamed up with acclaimed local designer Mark Bausback and contractor Roger Feyen of Blueprint Contracting, whose recent projects include some of San Diego's most successful bar and restaurant concepts including Bootlegger, La Puerta, Dirty Birds and most recently, The Duck Dive. The Commons will provide a 2,800 square-foot space where guests can enjoy the sights and sounds of the Gaslamp, along with an energy that will resonate within the bar itself. The interior will boast a contemporary setting with hints of retro décor, including a vintage drive-in movie theatre sign stretching across the bar, ample flat-screen TVs and a designated game room on the second floor mezzanine with shuffleboard, board games and retrofitted tables with checkerboards and backgammon. Floor-to-ceiling windows along 4th Avenue will offer spanning views of the park for those perched on a comfortable stool on the patio, up to the upstairs mezzanine. While a classic look is at the forefront, modern elements like the cork bar top and tabletops will add a fresh twist on the iconic bar theme.
The Commons is located at 901 4th Avenue, San Diego, CA 92101. Opening Fall 2012, the bar and restaurant will be open daily for lunch, dinner, happy hour, late-night eats and Kegs & Eggs brunch on weekends. To learn more, visit
The Commons online
 and follow on
Facebook
.