September 24, 2012
The 31st annual
Adams Avenue Street Fair
 will be held this weekend, Saturday, September 29th, from 10:00 am to 10:00 pm, and Sunday, September 30th, from 10:00 am to 7:00 pm, on Adams Avenue, located in the Normal Heights community. Known as Southern California's largest, free, two-day music festival, the Adams Avenue Street Fair offers fantastic music for all-ages, all musical tastes, all weekend long!  Don't miss out on one of San Diego's longest running events!
This weekend's Adams Avenue Street Fair will feature more than 90 musical acts performing on seven stages on Adams Avenue. This year's headliners include '60's psychedelic rockers the Strawberry Alarm Clock, the reunion of San Diego rockabilly trio the Paladins, the return of music provocateurs Mojo Nixon and Skid Roper, blues guitarist Coco Montoya, the Puerto Rican-based ensemble Plena Libre, singer/songwriter Jack Tempchin, indie band Cuckoo Chaos, Kofi Baker's Cream Experience, country singer/songwriter Chuck Cannon, blues artist Junior Watson, and East L.A. R&B favorites Tierra. Also performing will be Sara Petite & The Sugar Daddy's, Len Rainey & The Midnight Players, Gilbert Castellanos Hammond B-3 Group, FM Era, Sundrop Electric, and Maren Parusel.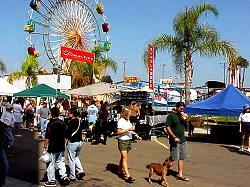 In addition to the exciting musical line-up, there will be four beer gardens, a beer tasting area, giant carnival rides, and more than 300 food, arts and craft vendors selling their specialties throughout the street fair venue.
The second annual Adams Beer Taste will be held in conjunction with the Adams Avenue Street Fair, on Saturday, September 29th. Tickets for the Beer Taste are $16-25/person. There will be over 15 brewers, and more than 30 beers to sample. Confirmed breweries include the following, with more expected to be added:
Karl Strauss Brewery
Coronado Brewery
Manzanita Brewery
Stone Breing Co.
Green Flash Brewing Company
Bruvado
Duvel
Omme Gang Brewery
Monkey Paw Brewery
Firestone Walker Brewing
Lagunitas Brewing Company
The Beer Company
Automatic Brewing Co.
Tailgate Beer
The Adams Avenue Street Fair was started in 1981 at the corners of School and Mansfield Streets. The headline band at the time was made up of San Diego Police officers who performed as a community out-reach.  The Adams Avenue Street Fair is presented by the
Adams Avenue Business Association
, a non-profit organization, whose mission is to promotes and increase commercial activity within the Adams Avenue Business District.
Below is the anticipated schedule for the headliners of the event.  For the full music schedule, list of performers, and further information, please call (619) 282-7329, or visit
www.adamsavenuestreetfair.org
.
Strawberry Alarm Clock - Saturday 8:30 - 10 (Rock Stage)
Kofi Baker's Creme Experience - Saturday 9:15 - 10 (Lestat's Stage)
Mojo Nixon and Skid Roper - Sunday 5:45 - 7 (Rosie's Stage)
The Paladins - Saturday 8:30 - 9:45 (Rosies Stage)
Coco Montoya - Sunday 5:45 - 7:00 (Blues Stage)
Plena Libre - Saturday 8:30 - 10 (Worldbeat Stage)
Jack Tempchin - Saturday 2:15 - 3:00 ( Lestat's Stage)
Cuckoo Chaos- Sunday 5:45 - 6:45 (Rock Stage)
Chuck Cannon - Saturday 6:15 - 7:00 (Lestat's Stage)
Junior Watson - Saturday 8:45 - 10:00 (Blues Stage)
Tierra - Sunday 5:45 - 7:00 (Worldbeat Stage)