Holy Shishito!!
October 2, 2012
RA Sushi Bar Restaurant in Downtown San Diego
has rolled out updated dinner and beverage menus, adding a new selection of appetizers, shareable creations, and specialty cocktails. In addition to the new menu, the vibrant downtown eatery recently introduced a reverse happy hour that offers late night food and drink specials.  We'll be profiling the new menu right here on SanDiegoVille in the next week or so, but until then, check out a preview of some of RA's new offerings.
"Every year, RA Sushi refreshes its menu to keep the choices new and exciting for our guests. We stay true to our popular favorites, while introducing some new flavors focused on culinary trends," said RA Sushi Executive Chef Tai Obata.
Under the "Soup and Salads" category, Obata added the Clam Udon: sake steamed clams served over udon noodles in a sake cream broth ($13.25). A variety of creations for grazing have also been added to the menu. Get started with the Edamame Dip: a creamy edamame and spinach dip, served warm with wonton chips ($5.25).
Get friendly with five new shareable plates. The Holy Shishito Chicken is Asian breaded chicken lightly fried and sautéed in a chili sesame sauce, tossed with fried shishito peppers, onions, and green and red peppers ($9.75). Choose the Drunken Clams ($12.75) or the Drunken Black Mussels ($9.25) steamed in sake and sautéed in garlic and seasoned soy sauce. Craving a little bit of heat, try the Bonfire Shrimp, Asian breaded shrimp, lightly fried and tossed in a chili sauce with fried shishito peppers ($11.75). For a lighter option, order the Salmon with Green Beans, grilled salmon on top of garlic green beans, drizzled with a spicy yuzu sauce ($10.25).
RA Sushi has updated its popular Asian Chicken Wings ($7.25) to include three flavor options: Sesame Garlic, Black Pepper Teriyaki, and Chili Ponzu. An order comes with a half a dozen wings tossed in a sauce of choice. RA's new Crispy Asian Tacos are sure to be a huge hit! Sample from five different flavors, including the Spicy Tuna, a spicy tuna mix, lobok, lettuce mix, crumbled wasabi rice cracker bits, and guacamole in a rice paper shell ($9.25) or the Chicken featuring chilled shredded sake steamed chicken with Asian vegetables in a rice paper shell ($7.50).  Other flavors include Spicy Salmon ($8.25), "RA"ckin' Shrimp ($8.25), and Crispy White Fish ($8.25).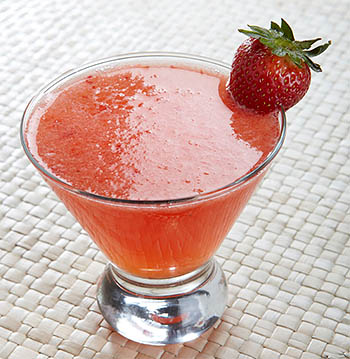 Strawberry Saketini
A meal at RA would not be complete without indulging in one of the restaurant's creative cocktails. The updated menu now features five new drinks, including three skinny cocktails that come in at less than 200 calories each. Try one of the new refreshingly fruity creations, including the Strawberry Saketini, Svedka Citron, Nigori sake, strawberry purée and lemon juice ($9), or the Coconut Moshi Mojito, a cool and refreshing cocktail with Cruzan Estate Light rum hand muddled with fresh lime, sugar, soda and fresh mint, plus coconut flavor ($8).
Those watching their waistline can enjoy the low-calorie Cucumber Collins, a mix of Effen Cucumber vodka, fresh cucumber, lime juice, Monin Sugar Free Sweetener and soda ($8); the Kiwi-berry Kiss, Voli Lemon vodka muddled with fresh kiwi, strawberry, plus fresh citrus and Monin Sugar Free Sweetener and soda ($8); or the Lycheetini, exotic flavors of muddled lychee fruit mixed with Voli Lemon vodka, lychee juice, lemon juice and Monin Sugar Free Sweetener ($9).
Taco Tuesday Sushi options!
Known throughout San Diego for killer happy hour specials available Monday through Saturday from 3 to 7 p.m., now RA Sushi Bar Restaurant is also the late night happy hour hot spot.  RA Sushi recently began offering a reverse happy hour menu Monday through Thursday from 10 p.m. to midnight. The reverse happy hour menu includes more than 35 sushi, appetizer, and tapas selections, ranging from $2.25 to $7.25, plus a wide variety of beer, wine and signature cocktails ranging from $3 to $7. Popular happy hour dishes include Tootsy Maki, the Viva Las Vegas Roll, Sweet Onion Salmon Tapas, and Pineapple Cheese Wontons. RA's creative cocktail menu features such favorites as the Sake Sangria, Blushing Geisha and Mango Martini.
For more information, visit
RA Sushi San Diego online
or in person at 474 Broadway in Downtown SD.