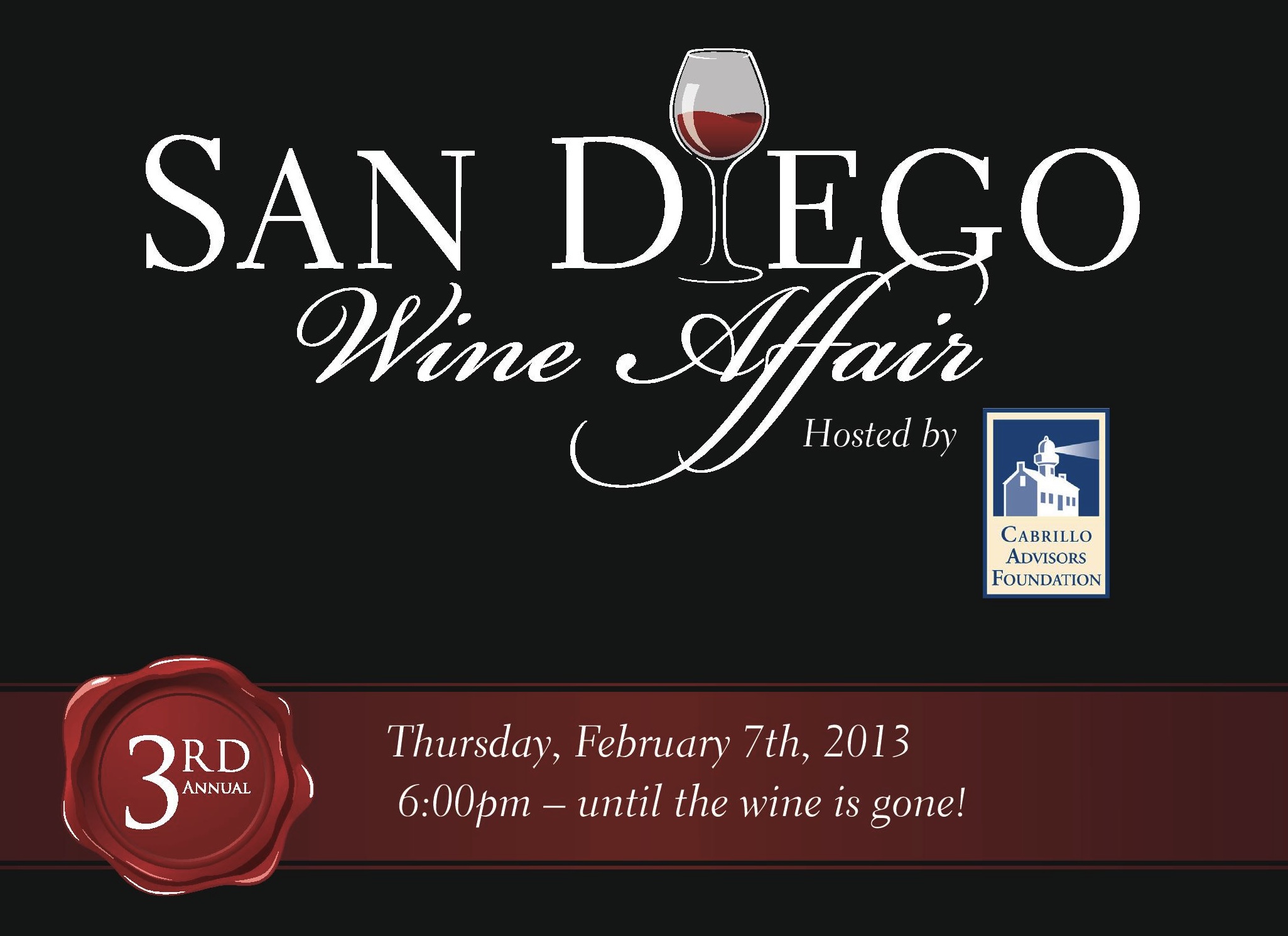 January 25, 2013
The
Cabrillo Advisors Foundation
is pleased to announce the third annual
San Diego Wine Affair
on Thursday, February 7, 2013 starting at 6:00 p.m. The highly anticipated soiree, to be held in the La Jolla Ballroom of the prestigious
Estancia La Jolla Hotel & Spa
, will benefit
Rady Children's Hospital-San Diego
and
San Diego Social Venture Partners
. The evening will unite over 300 wine enthusiasts with more than 30 top-rated California winemakers, and will feature fabulous food, lively entertainment by Dawn Mitschele and world-class silent and live auctions.
Guests of the San Diego Wine Affair will spend a festive evening sipping on 90+ prestigious California wines as they soak in the comfortable elegance and impressive design of the 5,000 square foot La Jolla Ballroom. Participating wineries include, August West Winery of Sonoma, Vineyard 29 of Napa Valley, Keefer Ranch of Russian River Valley, Dragonette Cellars of Los Olivos, CA, and Pali Wine Co. of Lompoc, just to name a few.  Attendees will enjoy culinary creativity by Estancia's celebrated chefs along with acoustic guitar and vocals by Dawn Mitschele as they mix and mingle with San Diego's finest.
The evening's live and silent benefit auctions will give guests the opportunity to bid on exciting luxury items, once-in-a-lifetime experiences and deluxe get-a-ways— auction items include a Corum watch valued at $20,000, 4-Night Portico luxury vacation, Botox Bash for 10 ladies at renown dermatologist Dr. Melanie Palm, a magnum of exclusive Kosta Brown Pinot Noir, as well as a cave wine tasting experience.
The primary beneficiary of this event is nationally renowned non-profit
Rady Children's Hospital - San Dieg
o, which is the county's only dedicated pediatric care facility and trauma center. Expenses to operate the 464-bed hospital top one million dollars daily. Proceeds from the San Diego Wine Affair event will directly support the facility's emergency services funds. In honor of ResMed, a leading developer, manufacturer, and marketer of products for the diagnosis and treatment of sleep-disordered breathing, funds will also go towards the advancement of Rady's Sleep Center. The Center specializes in the diagnosis and treatment of respiratory pediatric sleep disorders and research and program development initiatives.
The other beneficiary is
San Diego Social Venture Partners
,  a 501(c)(3) organization that invests in local non-profits to help build their capacity, scale their impact, and serve more people in need. With its unique model of impact philanthropy, SDSVP magnifies the value of funding by harnessing the intellectual capital and business expertise of more than 150 contributing local partners. During 2012 SDSVP collaborated with nearly 50 local non-profit organizations and has donated more than $1 million to local non-profits since its inception in 2001.
"Putting an event together of this caliber has been a labor of love," said Wade Hansen, founder of the Cabrillo Foundation. "Our organization has truly been inspired by how the San Diego wine and business community has come together for our third annual event, and we are grateful for the opportunity to continue to serve children in need across the county through our work with Rady Children's Hospital and Social Venture Partners."
An investment banker by day, Point Loma resident, Wade Hansen (the Maitre Commanderie de Bordeaux, founder of the San Diego International Bordeaux Society), has dabbled in wine since graduating from Northwestern's Kellogg Graduate School of Business. From hosted wine tastings in his own home to elaborate private dinners across the city, Wade's passion continues to grow through the years. He is eager to share his love of wine and aims to unite the wine and business communities by hosting the third annual San Diego Wine Affair on Thursday, February 7, 2013 at 6pm at the picturesque Estancia La Jolla, located at 9700 N. Torrey Pines Rd. As a father and the Founder and Managing Director of Cabrillo Advisors, San Diego's premier business valuation and investment banking firm, Wade formed the Cabrillo Advisors Foundation in September 2012 with the mission to serve the needs of children by partnering with selected charities and has welcomed the opportunity to lead the San Diego wine movement in a city prominently known for craft beer while also shedding light and raising funds exclusively for children's charities.
Tickets are available for purchase online
and via e-mail by contacting
[email protected]
 for $175 per person or group tickets for $600 for four.  For additional information, please call 858-480-9423 or visit
www.SDWineAffair.com
.