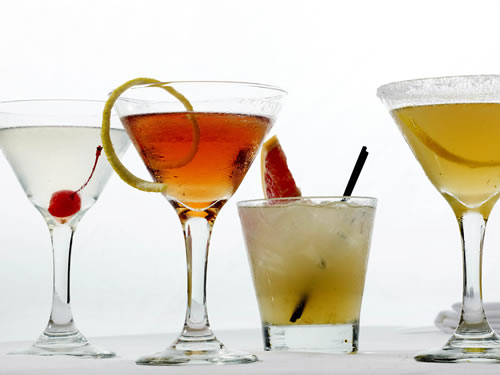 August 16, 2012
We are less than two weeks away from all the stirring, swirling, shaking and gyrating that will liven up our great city when the 2012
San Diego Spirits Festival
returns.  Taking place on Saturday, August 25th and Sunday, August 26th, this preeminent West Coast cocktail, culinary and cultural event is where the world of craft spirits, high profile liquors and fine foods converge to make a splash on our sunny San Diego bay.
The San Diego Spirits Festival is a two-day festival sure to please the palates of everyone from the serious mixologist, professional chef, to the novice culinary enthusiast and the sophisticated cocktail drinker.  This much anticipated festival takes place at a stunning venue on the waterfront at the
Port Pier Pavilion
on Broadway, which offers an absolutely beautiful backdrop of the luminous San Diego Bay– the perfect platform to showcase the brands that have already come on board.
With bartender competitions, tastings, seminars, a silent auction, and parties, the festival offers a one-of-a-kind opportunity for brands to be supported and gain recognition among San Diego's cocktail and culinary community and beyond. The San Diego Spirits Festival is committed to building the mixology community locally and garnering national exposure for the brands that participate. This year's incarnation boasts an expanded entertainment schedule, including more performing artists and bands, as well as mixology competitions from top talent, and food demonstrations from executive chefs from leading local restaurants, making the San Diego Spirits Festival a true multi-facet event merging the three elements of cocktails, culinary and culture on the beautiful San Diego Bay!
Event organizer and founder Liz Edwards has high expectations for the festival this year. Since its launch here in San Diego in 2009, the venues have changed, the competitions have intensified, and the surprises have gotten bigger and better.
"The San Diego Spirit Festival is a highly anticipated event that gives local mixologists a platform to showcase their latest creations and demonstrate the passion for our craft," said Mike Yen, last year's winning mixologist at the festival.  "I love what Liz Edwards has done to help cultivate and spread awareness of our growing cocktail culture."
San Diego is California's second largest city, and is experiencing an exciting cocktail revolution. Now in its fourth year, the San Diego Spirits Festival attracts high-profile members of the spirits and culinary trade, affluent consumers and local bar and restaurateurs who are passionate about San Diego and the West coast's burgeoning cocktail and culinary scene.
The Spirits Festival will kick off August 20 with Cocktail Week. From August 20 to August 24, visitors can sample select creations at participating San Diego locations.
On Saturday, August 25, the grand tasting room opens up to all VIP and trade ticket holders at noon, and to the public at 1pm. At 2pm, the Ultimate Bartender Battle will pit top mixologists from all over the city against each other in the semifinals. The winners will continue to compete on Sunday.
Picturesque setting!!
On Sunday, grand tasting opens at 1pm. At 2pm, the finalists will finish the Ultimate Bartender Battle to declare a winner. Chef demonstrations will also take place with spirits on Sunday. During both days you can catch a "Musical Cocktail." 12 live California-based bands will play against the end of the Pier for a refreshing treat.
Over 3,000 people are expected to attend the Festival this year.  So if you are a luxury spirits connoisseur, a foodie, a local or national bartender, or a restaurateurs, come enjoy San Diego's exciting local cocktail and culinary scene.
Tickets can be purchased online
and are available for $80/day and grants the participant unlimited tastings.  There are also a limited number of VIP tickets, which grant holders access to both day's events, unlimited tastings, entry to the VIP party, a swag bag, and lots more surprises including early entrance on Saturday the 25th at 12pm.
The official charities for the San Diego Spirits Festival are
Women Executives in the Beverage Industry
,
Chefs de Cuisine Association of San Diego
, and K.E.Y.S -
Keeping the Eyes on Your Safety
.
For more information, make sure to check out the Spirit Festival's brand new website at
www.SanDiegoSpiritsFestival.com
, and for specific questions, please call 858-551-1605 or email
[email protected]
.