November 28, 2012
Although we love San Diego unconditionally in its entirety, we are generally unenthusiastic about journeying into Coronado.  Perhaps our reluctance stems from a general mistrust for the structural integrity of the bridge or simply distance from our PB bubble, but we don't venture to this faux-island unless we're touring visitors (to Hotel Del!).  After recently receiving a recommendation from a trusted foodie friend (SDV contributor Heather Reineke!), we decided to make the trip to dine at
Leroy's Kitchen + Lounge
to try out Chef Greg's new menu.  Turns out, we really enjoy Coronado, and all it took was a night out at Leroy's to show us that traversing that bridge is well worth it.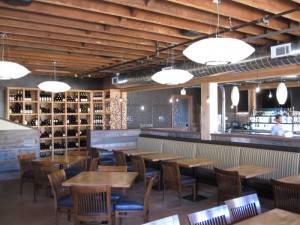 Leroy's sits on Coronado's main drag of Orange Avenue.  Its design is multifaceted, with many stylistic textures coming together to make for a hip and comfortable destination.  Industrial with a pub feel, Leroy's exudes the elegance of Coronado while presenting a classic country atmosphere - an intended homage to the farm to table fare, perhaps?  During our meal, the relaxed rhythms of live band,
Todo Mundo
, entertained the room.  Live music occurs every Wednesday and Thursday at Leroy's.  Local art adorns the walls and changes monthly.  In addition to the main dining area and bar lounge, Leroy's offers a private dining room with A/V hookups that seats 10-12 and an outdoor patio that seats 18.  Preserve your data usage and latch onto the free Wi-Fi provided throughout the restaurant.
Chef Gregory Chavez
In conversing with San Diego native, the smiling Chef Gregory Chavez, we found him to be one of the most passionate and knowledgeable chefs we've ever had the pleasure of meeting.  His menu changes frequently and is committed to local, sustainable and fresh food principles.  According to Chef Greg, as far as the menu changes go, "Nothing is off limits," so do recognize that what you enjoyed during one meal may not be available on the next visit.
We began with a
Stone Cali-Belgique
, a somewhat rare and certainly delicious beer.  This was one of the 16 rotating taps at Leroy's, each of which is substituted with a completely new beer once a keg runs dry.  Leroy's craft beer program is in addition to a full bar and a lengthy wine list, which is available for dine in or take out, and is $10 off per bottle on Wednesday nights.
We came hungry and Leroy's didn't disappoint.  We began with the persimmon and pear salad ($8), a refreshingly simple compilation of arugala, pickled shallots, frisee, radicchio, pear and persimmon sliced thin, and covered in crumbles of creamy goat cheese feta.
Next up we enjoyed the ahi poke tacos ($10), which rivaled and maybe even bested neighboring
Peohe's
(a favorite of ours and the judges at the
2012 I Love Poke Festival
). The tacos came in a palate pleasing pair and combined sweet and savory with fresh blue fin ahi tuna sashimi, napa slaw, and a spicy creme layered inside a crispy wonton hard shell.
For our main course, we enjoyed the pork shoulder bolognese ($20) which uses a sauce that is reduced for hours and exudes vibrantly condensed flavors. Combining cubed pork shoulder, house made
pappardelle
pasta, seasonal root veggies, roasted medjool dates and toasted almonds, this dish was so comforting and homey that we had to put it aside to bring home (the perks of the job!) so as not to overstuff ourselves.
On recommendation, we also went with the
Duroc
pork porterhouse ($21), which was tender and filling.  While my partner found it a bit overdone, I thought it was cooked perfectly for my taste.  Combining bourbon, local figs, and ginger to make the sauce, the caramelized coating on the pork fills the meat with succulent flavor.  Garnished with pan fried potatoes and perched on a bed of sauteed kale, this dinner was hearty to the max and makes for an excellent option for the hungry.
Although nearly topped off, we wanted to get our fig fix, so we finished the meal with the local fig tart ($8), topped with vanilla ice cream and a sprinkle of black peppercorn - a delicious and beautiful ending to a sumptuous meal.
Leroy's is open daily and offers frequent specials including
seasonal harvest dinners
, price fixed dinners and specialty entree offerings.  For more information, visit Leroy's online at
leroyskitchenandlounge.com
, and be sure to follow on
Facebook
and
Twitter
.
LEROY'S KITCHEN + LOUNGE
1015 Orange Ave., Coronado
(619) 437-6087
leroyskitchenandlounge.com
Hours
:
Mon.-Wed. 11am to 10pm
Thu.-Fri.  11am to Midnight
Sat. 10am to Midnight
Sun. 10am to 10pm
Social Hour: 3pm to 6pm
Late Night Social Hour:  10pm to Midnight (Thu.-Sat.)