February 5, 2013
All restaurants step up their game on Valentine's Day and anyone is welcome to indulge in food glory. So on this V-Day enjoy some of San Diego's finest foods and celebrate however you'd like!  Time to break out the Valentine's Day menus!  Check out SanDiegoVille's assortment of San Diego restaurants' Valentine Day (plus the weekend after, week of and then some) options from all over the county.  Local eateries have San Diegans swooning over specials that prove food is love.
DOWNTOWN
Jsix
's Valentine's menu by Executive Chef Graves grabs your attention and holds it through all four courses. Start with His & Hers Oysters on the half shell raw with caviar and champagne mignonette or baked with garlic and bacon. Move on to choices like Spinach Cavatelli with De Bruin Rabbit Sugo and Fennel Sausage Stuffed Quail. End dinner with Red Velvet Sinner's Cake with shaved angelic chocolate and cream cheese sauce. Graves' four-course menu is $75 per person or $95 with beverage pairings.  For an unforgettable evening, take advantage of special rates at
Hotel Solamar
, the hotel adjacent to Jsix, for the night. Their Love, Play, Dream package includes champagne, chocolates and a $100 credit to Jsix. 
Chef Dolinky's three-course menu at
Saltbox
is truly an affair of the heart. Uni and Crab Verrine with avocado and blood orange warm up the palate for rich dishes like Lobster Ravioli with Meyer lemon and caviar snap pea gremolata. Desserts likeChocolate Hazelnut Terrine with goat cheese ice cream and rosemary tangerine make parting such sweet sorrow. The meal is $55 per person and $18 to add wine pairings.
Like the iconic deep red lips that grace the menus of
Katsuya by Starck San Diego
, Katsuya provides the perfect combination of elegance and romance for a date night in this special day. The restaurant will be offering a four-course pre-fixe menu where guests can start with individual selections of either Robata Oysters with Momiji Ponzu, Beef Tataki with Truffled Soy, or Crispy Octopus served with a Garlic Aioli. Second, each guest may choose between Ceviche Seaweed Salad, Vegetable and Shrimp Tempura or a selection of Robata Skewers. As the best things in life are shared, the entree course is made for two allowing each pair to choose between a Whole Bass served with Tempura fried with Szechwan sauce or sauteed Sancho pepper sauce, a Waygu Filet with Truffle Butter and Wasabi Ponzu or a beautiful Sushi and Sashimi Platter. Sweet endings come in the form of a Chocolate Debauchery platter, consisting of Lava Cake, Chocolate truffles, and Mint Chocolate Creme Brulee. The prix-fixe menu will be available for $150 per couple with the option of a bottle of champagne for an additional $50 per couple.
RA
's Valentine's Day specials may be just a fling, but the impression they leave is definitely lasting. Fall for the For the Love of Lobster Dish, RA's heart-shaped sushi rolled in pink soy paper. Crab mix, cucumber and fresh strawberries passionately encircle creamy lobster salad and fresh avocado.  Or renew your adoration for favorites like the Chili Ponzu Yellowtail Roll, thinly sliced yellowtail, jalapeno, cilantro and sautéed cashews served with Kochjan chili ponzu sauce. End the evening with traditional Japanese Green Tea Ice Cream or Chocolate Gelato, or pair your meal with their Berry Encucumbered Refresher, a flirty cocktail made with Effen Cucumber vodka, Absolut Citron, Cointreau, muddled cucumbers, strawberry, fresh lime juice and soda water. Make reservations for anytime after 5:30 p.m..
Andaz San Diego
will provide San Diego singles a chance to win a date with a Cosmopolitan Magazine Bachelor of the Year as they host a veryspecial bachelor auction to benefit The American Heart Association. The February 14th event will bring together more than a dozen of San Diego's most eligible bachelors and provide an evening of entertainment and philanthropy.
Brian Malarkey of Searsucker
Dubbed "
Searsucker
Love Day", the restaurant team will be debuting a bold five-course prix-fixe menu for the special night. After a surprise Amuse, guests can choose from starter offerings including Lamb Carpaccio with orange, fennel and smoke trout, and Spot Prawns with quail yolk and caviar. Second course options keep things inventive and sexy in the Scallop with Pork Caramel and Macho Blossom with Soyrizo, Panella and Salsa Verde. After a lighter third course of Beet & Mixed Greens or Charred Tomato & Fennel Soup, the fourth course brings items like the Filet Mignon with lobster butter and potato whip or Lamb Loin with vanilla merlot sauce, parsnip and dandelion greens. To top off the meal, guests are presented with a Red Velvet Sundae for dessert. The prix-fixe menu is $75 per person and is sure to delight the senses.
San Diegans could celebrate Valentine's Day with a bay front dinner at 
Sheraton San Diego Hotel & Marina
. The property's Harbor's Edge restaurant will be serving a three-course dinner with coastal cuisine and seasonal ingredients. Menu highlights include Sesame Ginger Ahi with watercress and frisee salad, Alaskan Cod, Prime Beef Tenderloin and Ginger Glazed Duck Breast. Following dinner, couples can enjoy a sweet treat with desserts that include Cherry Ice-Cream with warm berries and Chocolate Cake Crunch Heart. Dinner will be $65 per person and reservations are recommended.
Romance is in the air with a candlelight Valentine's Day dinner at
The Grant Grill
. A 4-course special menu includes delectable dishes such as Hamachi marinated with bergamot citrus, California White Sea Bass and Dry Aged Strip Loin. The Orange Creme Fraiche Cake along with the Chocolate & Caramel, Chocolate Cake provide a deliciously decadent ending to the romantic meal. The complete menu available on the
Grant Grill
website. Thursday, February 14, seating's are available from 5:30-10PM. Valentine's dinner is $95 per person, excluding tax and gratuity. A la carte plated dinner menu will also be available. 
For any San Diego sweethearts free this Valentine's Day,
The Commons Bar
is your spot. Dubbed "A Bitter Sweet Valentine", the Commons will be implementing specials surrounding the theme at an in-restaurant event from 9 p.m. – 2 a.m.. The event will be a bittersweet singles mixer, and The Commons will be greasing the wheels of romance, serving up $5 Fernet, Fireball and Svedka shots and will have hosted appetizers until 10 p.m. The mixer is sure to boost any single spirits…it's Singles Awareness Day after all.
San Diego's
5th annual St. Baldrick's Shave-a-Thon
has officially kicked off, and in an effort to generate further awareness throughout San Diego, St. Baldrick's organization will be hosting a "Share A Little Love" Valentine's Day sign-up event on Wednesday, February 13th from 6-8pm at the host venue
The Commons
. Guests will enjoy passed appetizers and happy hour-priced drinks, as well as learn more about the event and sign up. Last year's fourth annual Shave-a-thon event was an overwhelming success with over 40 heads shaved and a packed house of over 150 supporters and a total of over $41,000 raised. The St. Baldrick's Foundation is one of the nation's leading contributors to childhood cancer research, second only to the US Government. Sign up early and spread the love this season by doing good! You can find more information about the organization here:
www.stbaldricks.org
.
And for anyone looking for a romantic Seaport Village Valentine's, there are amazing values awaiting.  
Asiago Pizza Pasta Plus
  is offering bottle of Chianti, any two pasta dishes or any large two-topping pizza and two homemade cannolis for $35.99 per couple.  
Greek Islands Café
  has a special on one-liter house wine, any two entrees and two desserts for $37.99 per couple. 
Edgewater Grill
 is offering bottomless champagne with a special five-course Night to Remember menu for $80 per couple.
Cafe21 is offering its Valentine Special for an extended time.  From Thursday, Feb. 14th to Sunday, Feb. 17th, guests are invited to join Cafe21 at either location (Gaslamp or Adams Ave) for a four-course $45 menu featuring goodies such as Rabbit Stew, White Chocolate Crepe Cake and Masala Chai Short Ribs.  In addition to the Valentine's menu, Cafe21 has an awesome ongoing special. On the 21st of every month, from 2 to 7 p.m., Cafe21 offers its six varieties of house-made sangrias for only 21 cents - you can't beat this deal! This month, however, the 21 cents deal will be on the 22nd because the Adams location is closed on Monday.
UPTOWN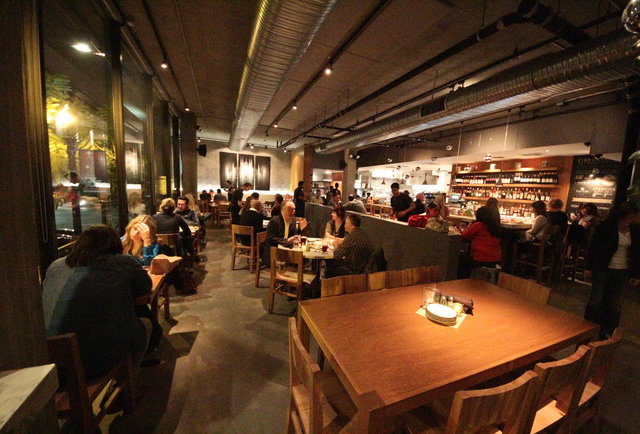 On February 14th and the weekend following, guests of
Monello
will be able to enjoy a specially created a la carte dinner at Little Italy's hottest Italian restaurant. The dining room is now taking reservations for  the holiday, and bar seats will be available sans reservation for more casual celebrations. A preview of special dishes includes Chef Fabrizio's Pizza al Peperone Rosso e Finocchiona (gourmet pizza with red bell peppers, arrabbiata sauce and fennel salami) and Gelate al Cioccolate e Peperoncino (homemade artisanal chocolate and spicy pepper gelato). The evening will also include a special organic and gluten-free cocktail, the "It Cuore de Monello" (Monello's Heart), made with Red Grape Hibiscus, Strawberry Puree and 1 oz. of Monello's Housemade Sweet Vermouth.
San Diego's "Best Italian Restaurant" -
Bencotto
- will offer reservations throughout its dining room on February 14th and the following weekend. Known for its fresh pasta, a preview of the Bencotto's a la carte Valentine menu includes dishes like Timballlo de Riso al Prosecco Rosé con Gamberi (prosecco rose' risotto tarte with shrimp) and Ravioli All'Aragosta (homemade ravioli filled with lobster meat and served in brandy bisque sauce).
A perfectly romantic dining destination with its rooftop patio and penthouse dining room,
Bertand at Mister A's
will offer a three course prix fixe Valentine's Day menu on February 14 from 4 p.m. to 10:30 p.m. Crafted by Chef de Cuisine Stéphane Voitzwinkler, this dinner menu is comprised of Mister A's favorites and seasonal dishes, and diners will have the option to indulge in Maine Lobster for an additional fee. This February 14 dinner is priced at $85 per person and the menu may be viewed in full 
here
.  Mister A's will also offer a three course prix fixe lunch from Feb. 11 to 15, available from 11:30 a.m. to 1:30 p.m. each day. This lunch menu, priced at $52.50 per person, is viewable in full 
here
.  Finally, Mister A's will round out these holiday specials with a five course tasting menu available Feb. 9 through Feb. 17 (except on February 14). Priced at $75 per person, this menu may be viewed 
here
.
At Little Italy's 
Cafe Zucchero
, lovebirds can enjoy a dessert of their choice and a split bottle of prosecco for $10 on Valentine's Day. Choose from cannoli, gelato and tiramisu, among many others!
From Thursday, February 14th through Sunday, February 17th, couples and singles alike can celebrate Valentine's Day at
Po Pazzo
in Little Italy.  Couples will enjoy a four-course meal for $64.95 each, with seating times at 5:30, 7 and 8:30 p.m. (seatings on Valentine's Day only). Reservations required every night through Sunday.  Singles will take over the Po Pazzo lounge and enjoy a three-course meal for $39.95, including an appetizer or salad, entrée and choice of either dessert or a split bottle of champagne. What's more, those flying solo can let Po Pazzo be their Valentine's date; all singles will receive an envelope upon arrival that holds a gift – a percentage off the meal, the entire meal paid for, or other treats to sweeten the pot.  Po Pazzo will have live entertainment Thursday through Saturday beginning at 7:30 p.m.
From  Thursday, February 14th through Sunday, February 17th, at
Busalacchi's A Modo Mio
, couples will choose from a menu featuring fan-favorite A Modo Mio dishes, as well as signature cocktails such as the Crisp Sangria and Lemon Basil Gimlet (menu items range from $19.95 to $34.95). Enjoy live jazz on Friday and Saturday nights. Reservations strongly suggested.
LA JOLLA
At
Cusp Dining & Drinks
, Chef Lockhart's "Menu of Love" is a five-course knock out. An amuse is followed by starters like Cold Smoked Salmon and Hearts of Palm Rillette and punchy entrees like Confit Veal Cheeks with butternut squash and Granny Smith apple gratin. The true champions are Lockhart's desserts. Choose between the Chocolate Threesome of Mexican hot chocolate, dark chocolate cake and chocolate cinnamon swirl ice cream or Innocent but Still Good, blood orange lavender cake with passion fruit mascarpone mousse. Cusp's prix fixe is $75 per person and $25 to add wine pairings. 
One particular spot has many food lovers hearts and that is
The Steakhouse at Azul La Jolla
. For the lovely evening Azul has added special menu items that will be served on February 14th that are sure to make anyone fall in love.  Pick from a special starter, including butternut squash soup, 1/2 dozen oysters, or grilled octopus salad.  Of the entrees, pick smoked duck, jus seared halibut, or vegetables bacon wrapped petite filet.  And for dessert, choose between red velvet cheesecake, grasshopper creme brulee, or carrot cakes.  Valentine's dinner is $35 per person or $52 with wine, excluding tax and gratuity. A la carte plated dinner menu will also be available.
Sweeter than a box of chocolate,
Sprinkles
' "XOX Box" is perfect for Valentine's Day indulgence. Topped with "XOX" and heart sugar decorations, each dozen box contains the perfect mix of flavors for your special someone. Valentine's Day flavor favorites Red Velvet, Chocolate Marshmallow, Dark Chocolate and Vanilla cupcakes will make the holiday extra sweet!
As pioneers of the mini indulgence of a decadent dessert portioned in a shot size glass,
Season 52
at Westfield UTC has made its mark on restaurant dessert offerings. Guests can come celebrate Valentine's Day and indulge in the special Valentine Mini and share a custom Mini Indulgence Cake that features 18 signature Mini Indulgences…because there is always room for dessert!
Donovan's Steak & Chop House
 in UTC La Jolla and the Gaslamp District radiates classic romance in a way that is hard to find in today's world of "casual fine dining." Think fresh-pressed white tablecloths, candlelit dining, a red rose for each lady and an elaborate meal prepared with the finest available ingredients. This Valentine's Day, Donovan's will feature a prix-fixe meal designed for two, including a choice of an appetizer or salad, and an entrée of Australian Cold Water Rock Lobster Tail and Prime Filet Mignon with a port wine and stilton blue cheese demi-glaze, served with garlic smashed potatoes, fresh asparagus and baby carrots, and a choice of dessert. This special Valentine's Day menu is available for $100 a person or $135 per person when paired with a bottle of carefully selected wine.
here
.
Roppongi Restaurant and Sushi Bar
is offering an elegant 3-Course Prix-Fixe Menu for $60 and guests are encouraged to enhance their dining experience with wine pairings (an additional $22) selected to compliment the flavors of each course.  This menu will be offered the entire Valentine's weekend (14th through the 17th).
At George's Ocean Terrace upstairs, lovebirds can indulge in an equally delicious three-course pre-fixe menu, including Grilled Local Octopus or Seared Rare Tuna for starters. The entree course brings options such as Grilled Scottish Salmons and Braised Colorado Lamb Shank, while dessert standouts include Sticky Toffee Pudding Cake and Pumpkin Mousse.  The pre-fixe menu is priced at $60 per person and full menu can be viewed
here
.
Herringbone
, Bravo Top Chef's Baumgarten and Malarkey have put together a four-course prix-fixe menu that includes entrée highlights of Kumamoto Oysters with sauternes jelly, Maine Lobster and English pea risotto, Duck Breast with beluga lentils and a Valencia orange reduction, and a couple options of decadent desserts to fit your appetite. This prix-fixe menu is $75 per person.
Brockton Villa
. Executive Chef Mareyja Sisbarro has created a four-course prix fixe dinner filled with dishes created just for the night, such as starter Oysters "Brockafeller" served with bacon, portabella mushrooms, baby spinach, artichoke, garlic cheese sauce, panko citrus crust and lemon, and the Brandt Farm Filet with gruyere and shitake bread pudding, grilled broccoli rabe and port demi. Other notable plates making an appearance on Valentine's Day include the Charcuterie and Cheese Board (perfect for two) and the Baby Arugula and Yellow Pea Shoot Salad for appetizers, the Pan Seared Pacific Sea Bass with Day Boat Scallop and Pistachio Crusted Rack of Lamb entrees and the Chocolate Espresso Pot de Crème for dessert, among many other sensational options.
Truluck's La Jolla
will offer a $75 three course prix fixe meal around its renowned seafood cuisine. Couples are invited to indulge in luxuries likeStone Crab Claws, Super Lump Crab Cake, South African Lobster Tail, Miso-Glazed Seabass and more. On this night, Truluck's famously-portioned desserts include sharable Carrot Cake, Chocolate Malt Pie and a sugar-free Coconut Cream Pie.
Fleming's Prime Steakhouse & Wine Bar
extends its Valentine's menu from Feb. 14 through 17 with a three course prix fixe dinner priced at $69.95 per person. Highlights include Heirloom Tomatoes with Housemade Burrata, Citrus-Marinated Salmon Tartare, Roasted Lobster Tail and Chateaubriand with Crab Glacage. A bonus: Guests who dine on any of these dates will receive a $25 gift card toward a future Fleming's experience.  Fleming's mixologists have crafted the Venetian Valentine, a romantic sparkler made with the less common aperitif wine Quady Elysium as well as St-Germain and Mionetto Prosecco.
The Melting Pot La Jolla
, famous for fondue, will offer a five course prix fixe menu priced at $85 per person. Highlights include Bacon and Brie Cheese and Pesto Walnut Swiss Cheese fondues; a Deluxe Lover's Feast featuring Twin Cold-Water Lobster Tail and Filet Mignon; and Cupid's Combination featuring choice of Filet Mignon, Angus Sirloin, Beaujolais Chicken Kiwi Lime Shrimp and more. Guests may also enjoy any decadent chocolate fondue or a specially created Valentine-themed dessert.  The Melting Pot's Valentine's Day cocktail list includes the Cupid's Cocktail, a sweet concoction of Citron Vodka, Amaretto, Triple Sec and fruit juices with a sugared rim.
The award-winning Pacific Rim and sushi restaurant,
Cafe Japengo
, will offer an a la carte Valentine's Day menu on February 14 with options created by Executive Chef Jay Payne. Specials will include Ahi Duet Two Ways featuring Tartare and Charred Ahi with Mizuna Greens, Lump Crab Meat Stuffed Wholefishand Grilled Porterhouse Vintage Steak with Miso-Glazed Lobster Tail. Desserts like Nutella Mousse and Red Velvet Cake Trifle and Warm Forbidden Rice Pudding will round out the meal.  Cafe Japengo's Raspberry Blossom cocktail, made with fresh raspberries, Chambord and raspberry vodka, pairs perfectly with the affectionate holiday.
BEACHES (Mission, PB, OB, Coronado)
Table 926
, the award-winning farm-to-table bistro in North Pacific Beach, will offer a three course meal on the evening of February 14th, created by owner and executive chef Matt Richman. On the evening, guests may enjoy the prix fixe $60 dinner or, for a total of $80, may enjoy their dinner with their choice of 2 glasses of wine and 1 glass of champagne.  
Bites like those created by Chef Chavez for
Leroy's
Valentine's Day menu will create fond memories and possibly a touch of separation anxiety once it's finished. Yellowtail Crudo with soy and ginger emulsion and lipstick peppers is just the beginning. A selection that includes Bistro Steak with oyster cream sauce keeps the taste buds revved up for desserts likeWarm Cardamom Cake with rose water and vanilla ice cream. The three-course experience is $40 per person and $25 to add wine/champagne pairings. 
Paradise Point
, a 44-acre private island on Mission Bay, celebrates Valentine's Day and romance with month-long offerings including couples' cooking classes, romance-inspired spa treatments, waterfront dining and resort packages during the entire month of February.  Chef Jessie Lee Williams will lead an intimate couples' cooking class featuring ingredients that stir up romance in the body and mind. Guests will be welcomed into 
Baleen
's bayfront exhibition kitchen with a glass of champagne, enjoy the fruits of their labor and leave with personalized recipe cards for the items they learned to create. "Chemistry in the Kitchen" classes will be held on Sunday, February 10, 3-4 PM and Sunday, February 17, 3-4 PM and cost $100 per couple.    Couples are invited on an island journey around the world with exotic treatments hailing from Bali, Fiji, Hawaii, and Thailand at 
The Spa at Paradise Point
. The tranquil oasis tucked amongst Paradise Point's tropical foliage offers romantic services like side-by-side Balinese massages, opulent all-inclusive rituals, and a milk bath for two in a wooden soaking tub sprinkled with hibiscus petals.  For more information, visit 
www.paradisepoint.com
.

NORTH COUNTY
Seafood is
Pacifica Del Mar
's passion, so it is no surprise they are stoking the fires with a variety of fresh options from Executive Chef O'Mary-Berwald's Valentine's Day menu. Starters like Ahi Tuna Tartare with a sesame cracker, pine nuts and a yuzu ponzu mesh with entrees like Grilled Swordfish with sweet potato-Dungeness crab hash, sundried tomato-pancetta marmalade and white port butter. In addition to the al a carte menu, Pacifica will also offer wine and champagne specials for the evening.
Rancho Valencia Resort & Spa
's coastal cuisine restaurant Veladora is pulling out all the stops to create one incredible Valentine's dinner. Executive Chef Eric Bauer has created a four-course prix fixe menu complete with Lobster and Crab Veloute with wild mushroom panna cotta, petite tarragon and a garlic crisp, Braised Lamb Shank with pomegranate and Brussels sprouts leaves, Pan Roasted Prime Rib Cap Steak with charred trumpet mushrooms, celery root mousseline, Brussels sprouts, rye beef and marrow reduction, and for dessert an Apple & Calvados Bavarois with cider sorbet and caramel tuile to perfectly complete the meal. This Valentine's menu is $80 per person, or $125 per person if you care to complement your meals with wine pairings. 
This Valentine's Day guests can cozy up next to the fire in a romantic setting or have your dinner under the stars at the Rancho Bernardo Inn's Mediterranean cuisine restaurant with a So-Cal twist,
Veranda
. The 4-course, prix-fixe menu is sure to leave you deliciously contented. Some highlights on the menu include Caramelized Four Onion Soup with a gruyere crustini, Petite Dungeness Crab Cake with piquillo pepper purees and herb pistou, Grilled Swordfish with togarashi, roasted fingerlings and garlic spinach, and your choice between Chocolate Fantasy which consists of chocolate mousse, white chocolate amaretto sauce and chocolate covered raspberries or Crème Brule Cheesecake with blackberry compote and tangerine. The menu is $59 per person, or $99 to add wine pairings with each course. 
Mille Fleurs
, located in the cozy heart of Rancho Santa Fe, will offer a four course prix fixe Valentine's Day menu beginning at 4:30 p.m. on February 14. Created by Chef de Cuisine Martin Woesle, the four course dinner will consist of dishes that stay true to the fine dining nature of Mille Fleurs. Guests will work their way through an amuse bouche, starting dish and entrée before closing out their dinner with dessert. Mille Fleurs' Valentine's Day dinner menu may be viewed in full 
here
.
SOUTHIE and AROUND
On Saturday, February 9th, an event for couples and singles alike, at
Via Lago Trattoria
in Chula Vista, guests will enjoy delicious Sicilian Italian fare and drink specials while listening to live entertainment; the DJ takes over to get the dance party started at 10 p.m. Via Lago will be decorated for the occasion, so wear your red.  On Thursday, February 14th, guests will enjoy a special menu featuring the best of the best dishes served at Via Lago Trattoria, as well as live music to set the romantic mood. Menu items will range from $19.95 to $34.95